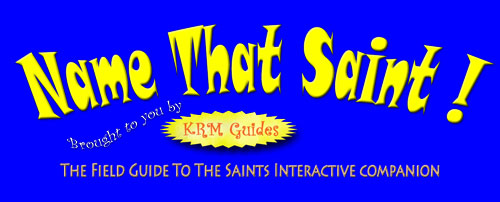 ---
Welcome to Name That Saint!
Use this game to practice the identification techniques presented in the book A Field Guide to the Saints.
In the game you'll be shown images of Saints to identify.
Find the most distinctive object or the situation in each image and
look it up in the Object Clue list you'll find near the
back of the Field Guide. Use the information you find through that clue list to try to Name That Saint.
When you think you've figured out the Saint's identity, click the corresponding button to check your answer.
This game contains hundreds of images, so you can practice for as long as you'd like to!